TEAM Asset Management provides a global weekly market review for week commencing 30 January 2023. TEAM Asset Management is a Jersey-based independent asset management company of AIM-listed parent, TEAM plc (LON:TEAM).
Dovish central banks set stocks on course for their best week of the year before a blockbuster US jobs report on Friday took some of the steam out of the rally. The blue-chip S&P 500 and technology focussed Nasdaq indices gained 2.3% and 4.3% respectively.
The US Federal Reserve met for the first time this year on Wednesday to decide on interest rates and markets liked what they heard. The quarter point interest rate hike to 4.75%, the highest level since September 2007, was fully priced in but Chair Jerome Powell's subsequent press conference caused stocks to move higher. Whilst Powell stressed that there was no room for complacency on inflation, and the Fed is not yet done raising interest rates, investors were encouraged by his admission that the disinflationary process has started. Annual CPI inflation has slowed from 9.1% to 6.5% since June.
The Bank of England and European Central Bank both raised rates by another 0.5% on the following day and the emergence of more dovish rhetoric was well received. The BoE's Monetary Policy Committee, still grappling with double digit inflation, voted 7-2 in favour of the increase to a 14-year high of 4% but indicated that smaller future hikes will be needed, especially with the economy on the cusp of recession. It forecasts the UK economy will shrink 0.7% in the fourth quarter this year, versus the last quarter of 2022, more pessimistic than the IMF which had earlier forecast the UK will be the worst performing economy in the G7 this year.
Confidence in the view that central banks are nearly done was, however, tested on Friday after the release of the monthly US nonfarm payrolls report for January which revealed more than 500,000 jobs were added during the months. Most analysts were expecting less than 200,000.
The surprise hiring spree pushed the unemployment rate down to 3.4%, its lowest level since the 1960s, and suggests businesses are more confident in the economy than many observers. A tight employment market also adds to the risk that upward wage pressures will last for longer which may discourage the Fed from pausing on interest rates as early as markets were pricing in before the report.
Last week was also busy for fourth quarter corporate earnings reports, headlined by some of the biggest tech companies. Amazon, Apple and Google's parent, Alphabet, reported after trading hours on Thursday and all disappointed. The iPhone maker saw quarterly revenues fall for the first time in 3 and half years due to covid-related supply chains disruptions in China which impacted deliveries ahead of Christmas.
Amazon reported a net loss of $2.7 billion for 2022, although it was due to a $12.7 billion valuation loss on its investment in electric truck manufacturing Rivian rather than operating performance. Amazon's sales during the holiday season were better than expected but sales growth at its cloud business, Amazon Web Services, missed forecasts. Earlier in the year, the ecommerce giant announced plans to cut another 18,000 jobs to streamline costs. Alphabet's Google Search and YouTube revenues declined as some companies reigned in advertising spend.
Facebook's parent Meta, however, bucked the trend and its shares jumped more than 23% on Wednesday despite reporting a fall in earnings. Facebook endured a difficult 2022, losing around $10 billion in advertising revenues after Apple changed its privacy policy for the iPhone, but Meta CEO Mark Zuckerberg pledged 2023 will be the 'year of efficiency' and the company raised its earnings guidance for the next quarter. Perhaps more importantly, Meta also announced a new $40 billion share buyback.
The short selling saga engulfing the Adani Group rumbled on, forcing it to pull its $2.4 billion share sale as Adani Enterprises shares fell well below the deal price. At one point last week, the rout wiped more than $100 billion off the combined value of the 7 listed Adani Group companies, pushing Gautam Adani out of the list of the world's top 20 richest individuals. Whilst there has been some recovery over recent trading sessions, Adani Enterprises shares are nearly 50% lower since the Hindenburg Research accusations of stock manipulation and accounting fraud went public.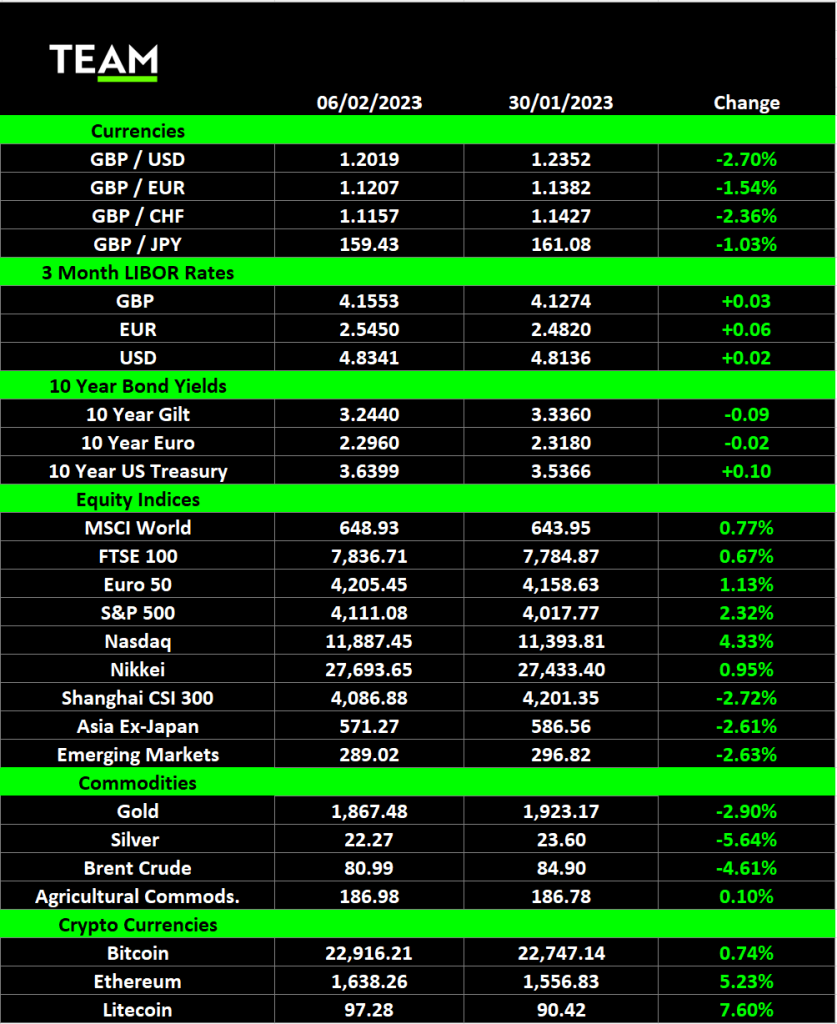 Author: Andrew Gillham, Senior Investment Manager, TEAM Asset Management (andrewgillham@team.je)