TEAM Asset Management's global weekly market review for week commencing 27 February 2023. TEAM Asset Management is a Jersey-based independent asset management company of AIM-listed parent, TEAM plc (LON:TEAM).
Global stocks ended a three-week losing streak as a light economic data calendar enabled investors to pay more attention to company news. The blue-chip S&P 500 and technology focussed Nasdaq indices gained 1.7% and 1.8% respectively.
Salesforce was one of the biggest movers of the week, gaining 15% in the wake of reporting its earnings. The cloud-based customer relationship platform, a constituent of the Dow Jones Industrial Average since 2020, generated revenue of $8.38 billion in the fourth quarter, 14% ahead of the same period a year earlier, and upgraded its earnings guidance.
Salesforce has been under strong pressure from a group of activist investors, including Elliott Management and Third Point, after its share price fell almost 60% from its pandemic peak heading into 2023. In a bid to appease them, CEO and co-founder Marc Benioff revealed in January he would cut more than 7,000 jobs, around a tenth of its workforce, and appointed three new directors to the board. Salesforce, Inc. (NYQ:CRM) stock price is now $183.32 (-0.26%)
Anheuser-Busch InBev reported its first fall in sales since the start of the pandemic but higher prices boosted its earnings to $4.9 billion in the fourth quarter. The world's largest brewer, whose brands include Budweiser, Corona and Stella Artois, also benefited from trend towards higher priced premium beers.
Looking forward, AB InBev is hopeful that the end of China's zero-Covid policy will drive a rebound and it sees the country's growing middle economic class as a lucrative market over the longer-term. Last month, AB InBev formed a joint venture with the Scottish beer group BrewDog to produce Punk IPA and other craft beers at its newly opened Putian brewery in the south-eastern province of Fujian.Anheuser-Busch InBev SA/NV (NYQ:BUD) stock price is now $59.78 (-2.14%)
Shares in Lufthansa rose more than 11% last week after the German flag carrier joined other major airlines in reporting a return to profitability in 2022. The airline swung to a profit of €1.5 billion and expects significant improvement this year as it increases capacity to between 85% and 90% of pre-pandemic levels.
Lufthansa also announced it has ordered 22 widebody planes from Airbus and Boeing, with a total list price of $7.5 billion, to meet the increased demand for long-haul travel and repeated its interest in acquiring TAP Portugal. Rivals Air France-KLM and British Airways' parent IAG Group are also reported to be eyeing up bids for the Portuguese airline.
Deutsche Lufthansa AG (PNK:DLAKY) stock price is now $11.40 (-1.98%)
The surprise performance of Aston Martin, including a podium finish for Fernando Alonso, at the first Formula 1 race of the new season in Bahrain has been widely lauded. However, its turnaround programme away from the circuit is at a much earlier stage. The luxury-car maker sold 6,412 vehicles in 2022 but its pre-tax loss more than doubled to £495 million as the costs of producing its Valkyrie hypercar soared. Despite the losses, its shares climbed 37% over the week.Aston Martin Lagonda Global Holdings plc (LSE:AML.L) stock price is now GBp297.20 (0.07%)
It was not such a good week for UK housebuilders after Nationwide's house price index fell 1.1% in February, the sixth consecutive monthly decline and the biggest drop since November 2012. Shares in Persimmon, one of the largest housebuilders, fell 12% on Wednesday on its warning that higher mortgage costs could dent its new homes sales by up to 40% this year.
China's annual session of parliament, the National People's Congress, was also a focus for investors over the weekend. After three years of lockdowns, the ruling Chinese Communist Party revealed it is targeting economic growth of around 5% for 2023, underwhelming for those hoping the authorities would provide more stimulus to drive a stronger recovery.
Its strict zero-Covid policy saw the economy undershoot last year's 5.5% growth target by more 2% and lower bar will be much easier to achieve. Premier Li Keqiang told party members that boosting domestic demand will be the government's top priority and pledged to create 12 million new urban jobs. Commodities, including oil and industrial metals rallied ahead of China's NPC meeting but gave back some of those gains as traders digested the modest economic growth target. The benchmark contract for iron ore, the primary raw material used to make steel, fell more than 2% on Monday to Rmb 897.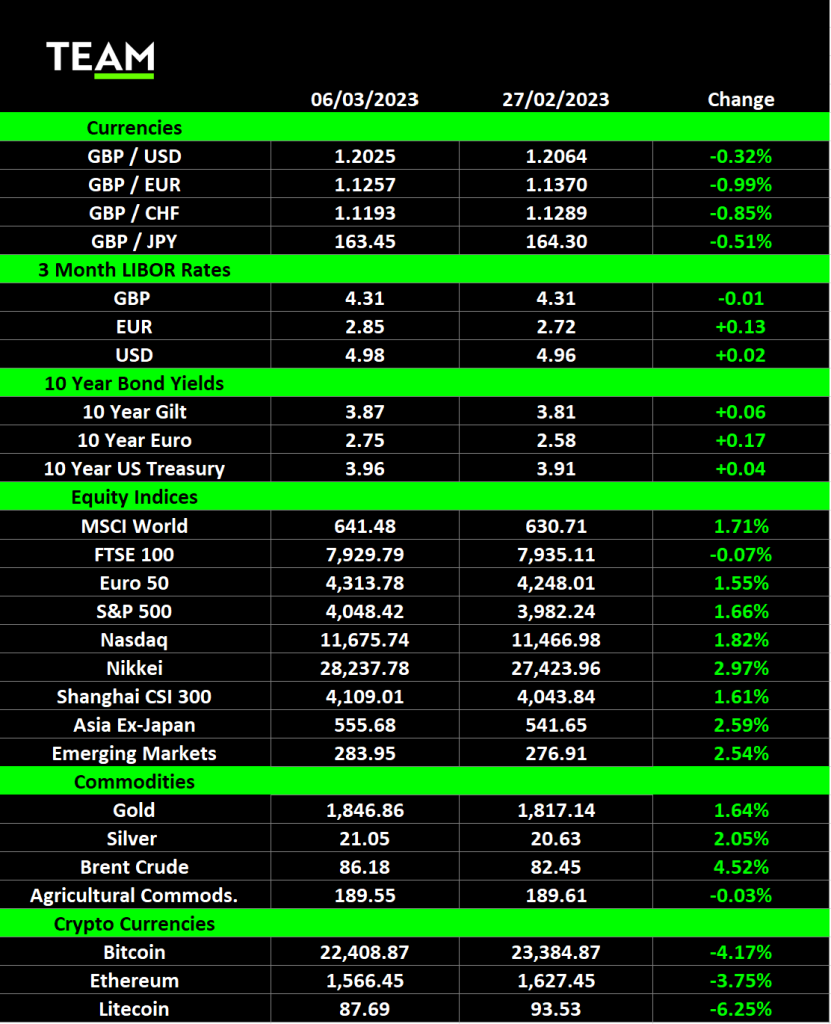 Author: Andrew Gillham, TEAM Asset Management, Senior Investment Manager,  (andrewgillham@team.je)